November 15, 2021
5 min to read
Top 5 beaches in Dubai
Dubai is a world famous tourist spot and known for its skyscraper building, man made wonders and exotic beaches. The snowy-white, fine-sand beaches are stretched along the aqua-blue Persian Gulf Coast (Known locally as the Arabic Gulf). 
Most of the beaches in Dubai are associated with luxury residential communities or hotels. To enjoy those beach vibes, you need to pay. But, the government also has taken care of public beaches. 
Most of Dubai's beaches are man-made, and hence they are flat and wide, with soft and cold white sand. Due to Dubai's intense summer temperatures, people love vibing in the night at Dubai beaches. 
Since Dubai's infrastructure has been upgraded in recent years, it offers a variety of amenities like changing rooms, restrooms, showers, sun loungers, umbrellas and sports facilities. Some beaches even offer free wifi and solar-powered device charging stations.
Dubai is one of the safest cities in the Middle east. Dubai provides personal security to their visitors. People leave their purses, wallets and phones on beach chairs while going to swim. Dubai is known for its magnificent beaches. Here are 5 top rated beaches in Dubai. 
JBR Open Beach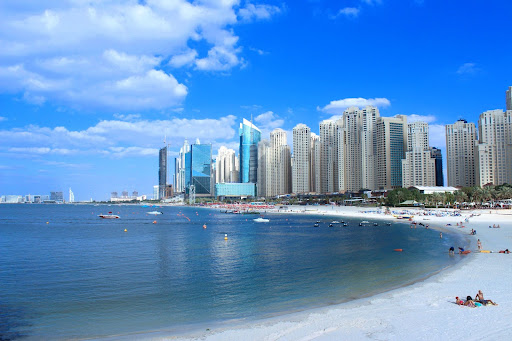 JBR Open Beach is one of the biggest and most famous beaches in Dubai and is located in Marina Dubai. This famous beach is near The Walk and JBR, from which it gets its name. JBR is a spotlessly clean and wonderful beach that provides full facilities in every few hundred meter yards inclusive of changing rooms, showers, places to buy food & snacks.
There are a starhds of beaches starting a Skydive Dubai and ending at the Sheraton Jumeirah Beach Resort in Dubai. Some strands are private but the biggest part of JBR beach is public. This famous and beautiful beach is open 24 hours a day and 7 days a week. With a few list of beach rules, it is forbidden to go for a swim after sunset.
The sand at JBR Open Beach is fluffy white and powdery soft and the water is warm and blue-green in colour. A must-see tourist spot in Dubai, JBR Open Beach is one of the most beloved and hottest tourist attractions. 
JBR open beach gives a beautiful panoramic view of the Persian Gulf. The beach of JBR provides many facilities. Shopping and entertainment areas are located directly on the beach, which contributes to these facilities. 
Kite Beach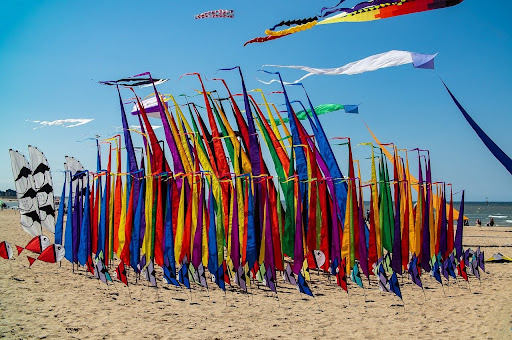 Kite beach is the best beaches in Dubai for kitesurfing and outdoor activities. Kite beach is umm suqeim beach. As the name suggests, Kite Beach, people come here to fly kites.  It's a wide flat beach with coarser sand than other beaches and windy enough to fly kites. 
Kite Beach is super clean and has lots of activities like kite surfing, beach tennis, beach volleyball and other outdoor activities. It offers a lot of facilities like changing rooms, wi-fi, showers, etc. 
Kite beach is also famous for food; a seaside market of food trucks, cafes and pop-up shops set up there. On Saturdays and Sundays, people come here to chill and spend some quality time with their family members. 
Umm Suqeim Beach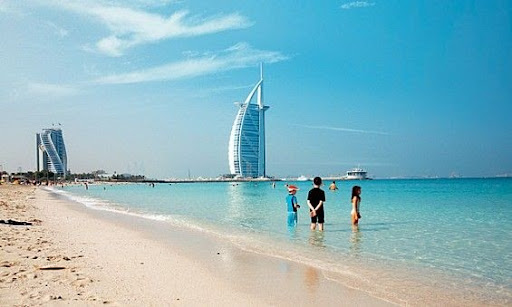 Umm Suqeim Beach is also known as sunset beaches in Dubai as a fact that this beach is the popular location for the sunset view in Dubai. This beach is located near Burj Al Arab, world's only 7 star hotel and provides a magnificent view of this luxurious sail shaped hotel. It is a public beaches in Dubai and open 24 hours a day and 7days a week.
It is the only beach where you can snap the best combo of breathtaking sunset view and Burj Al Arab hotel. As it is popular for the sunset view, the beach is very crowded before sunset. Umm Suqeim beach offers the facility of changing rooms and showers to wash off the sand after you enjoy and play at the beach. There are lifeguards on the beach to ensure the safety of swimmers and guests.
There is a playground available for childrens to have fun. Along the beach, there is a jogging path with a pedestrian promenade with several beach stands. Near the pedestrian promenade, there are a number of restaurants to enjoy the food, snacks and beverages. 
The uniqueness of this restaurant is that it has a beach library where you can borrow books for free to read on the beach or relax in the beanbags next to the library. There are some rules to be followed on the beach.  Lying topless or naked on the beach is forbidden. Umm Suqeim beach is a must visit beach in Dubai. 
Al Mamzar Beach park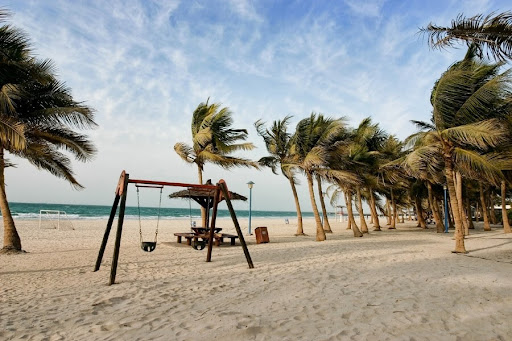 Al Mamzar Beach Park is one of the distinctive parks and a major attraction in Dubai. This beach is featured in top-rated 5 beaches in Dubai. Al Mamzar Beach Park is distinguished by its vast area of more than 100 hectares and by its unique and beautiful location. Al Mamzar Beach Park is one of Dubai's smart parks.
This magnificent beach is located in the Al Mamzar area, which is equipped with smart gates, smart chairs, and an oasis that transforms the humidity of the air into fresh drinking water. In addition, a smart rescue service is available via drone to save drowning swimmers.
This is the suitable beach for families during holidays. Enjoy the sunset view at Al Mamzar Beach Park. Al Mamzar Beach park provides beach chairs to enjoy this spectacular view. You must land in Dubai to enjoy these exotic beach vibes.

La Mer Beach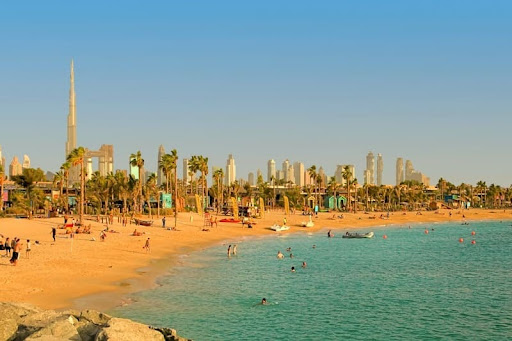 In Dubai's area of beach and promenades, La Maer Beach is the most popular destination. This is due to the location right by the sea, the presence of a large and spacious beach with a number of amenities. The complete La Mer Beachfront is divided into La Mer North and La Mer south.
These two chambers of La Mer Beach include 130 shops, cafes and restaurants. The beach is a white sand beach no less than 2.5km long. From here you can see the spectacular view of the waters of the sea as well as the impressive skyline of Dubai. 
It is fully equipped with showers, toilets, and changing rooms to have a warm bath after enjoying the beach. In case your phone gets switched off while clicking pictures and uploading on social media, there are power stations to charge your phones. 
Don't even think of the above listed beaches while planning your trip to Dubai. Being worried about money is senseless here. We are up with affordable Dubai packages for you. Enquire and book your tickets. 
Visit via.com