November 11, 2021
5 min to read
4 Undiscovered Places to visit in Dubai with family | Best place to visit in Dubai
There are some of the best places to visit in Dubai. Dubai, A city full of amusement, miracles, wonders and a power packed holiday destination. We all know Dubai is famous for some best places to visit with friends, family or couples in the world. It's a dream destination for every travel freak. Here in this blog there are some undiscovered but best places to visit in Dubai.
The best places to visit in Dubai are Burj Khalifa, Burj Al Arab, Palm Islands, Dubai Mall and Dubai aquarium. These are well known wonders across the world. But do you know some really mesmerizing places in Dubai that you must surely visit apart from these?
If not, then this 10-minute read will surely make your Dubai travel worth it with all the amazing places that will leave you stunned. Let's check out the top 4 best places to visit in Dubai that you must surely include in your travel list.
Dubai Miracle Garden – The paradise of flowers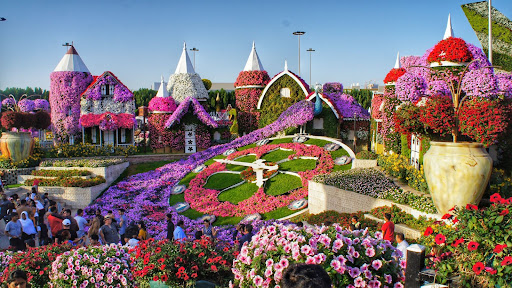 The onset of winters opens gates for a wonderful experience in Dubai with the Dubai Miracle Garden. It is the world's largest garden with 150+ million flowers built in an area of around 72000 sq. m. 
The Dubai Miracle Garden opens every year with the start of winters (recently opened on 1st November 2021) and takes you to a different world made of lovely flowers. 
The major 9 attraction point at Dubai Miracle Garden are:-
Sunflower field – A delightful scene of thousands of sunflowers facing the sun depicting a lifelong bond and true love. 

Emirates A380 – We all know Emirates A380 is one of the most famous airplanes in the world. DMG took its beauty to the next level by making a life size Emirates A380 with flowers & plans. It also holds a Guinness world record.

Smurfs Village – An attraction point for kids. Here smurfs (characters of Belgium comics & other famous creatures) live in a garden full of Mushrooms. You'll surely love it.

Floral Clock – Normal clock is too common, why not check out a clock made out of 1000s of flowers. The Dubai Miracle Garden has an amazing 15 m floral clock that makes time special for you.

Umbrella Tunnel – It is a creative passage in the Dubai Miracle Garden whose roof is made out of upside down umbrellas.

Lake Park – If you are looking for some really astonishing image then this combo of flowers, lake and wonderful floral structure is a not to miss thing.

Floating Lady – She floats in the air freely with her arms stretched and her hairs hanging down. Her dress is a glorious combination of white and red petunias.

Hill Top – You can't even imagine the mesmerizing view from this location of the magical garden. You'll surely love the serenity here.

3D Floral Design – 2D is normal. 3D is what brings life to things. This place is a unique collection of 3D structures you'll surely love.
Basically this garden is a pure wonder that surely hits your dopamine. The ticket price for Dubai Miracle Garden is around 55 AED. You visit their website to know more and book tickets online.
Dragon Mart – One stop for affordable items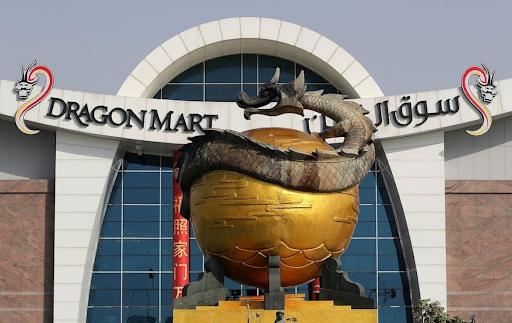 Dubai is well known for its luxury. If you are a budget traveler don't worry because we have Dragon Mart Dubai for you. Dragon Mart is the largest hub for Chinese products in Dubai. It is one of the most affordable malls in Dubai.
Dragon Mart Dubai is the best places to visit in Dubai for affordable electronics, fashion, furniture and homewares. 
If you are planning to do some really affordable shopping from Dubai then you must surely visit this huge mall. There's something for everyone at the Dragon Mart.
Recently Dragon Mart Dubai also started it's ecommerce platform where you can buy online at exciting discounts.
Dubai Frame – World's Largest Frame, One of best places to visit in Dubai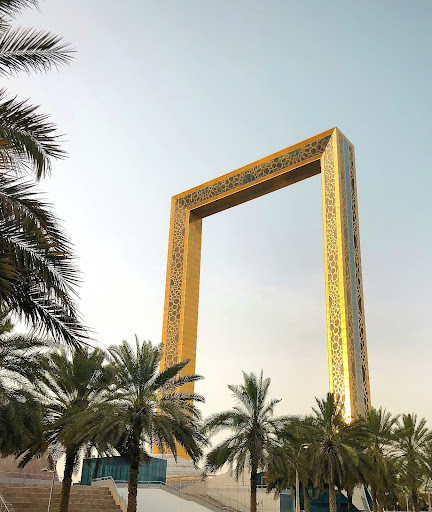 The Dubai Frame is the world's largest frame with its height reaching to 150 metre. It's surely an architectural wonder you must give a visit to. 
The design originated out of a competition held in 2009, Thyssenkrupp Elevator International Award and was the winning design out of 926 proposals. The Dubai Frame will surely leave you astonished with its beauty, wonderful architecture and design.
The spectacular Dubai Frame gives the bird's eye view of Dubai's famous skyline and old & new Dubai.
It is located near the Zabeel Park gate 4 and opens from 9:00 AM to 9:00 PM. The ticket price is 50 AED and you can book tickets from its official website.
Mercato Dubai – The ambience you'll fall in love with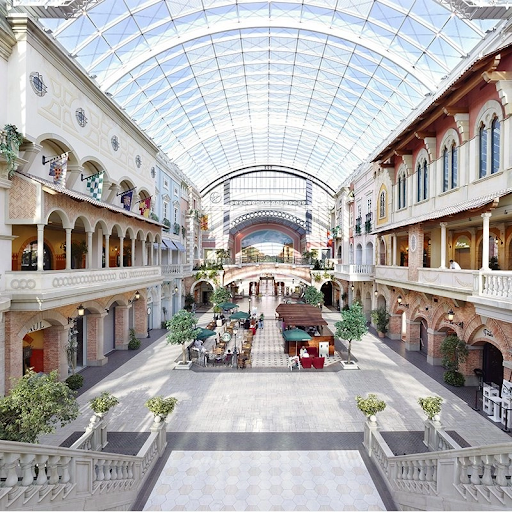 There's so many things to fall in love with the Mercato Shopping Mall that you won't regret a visit to it. Built in a large area of around 650k sq. ft. the mall has a very unique ambience.
The Mercato Shopping Mall is located in one of the most visited places, The Jumeirah Beach that attracts millions of people every year. Basically it's a mall to serve the local community of Jumeirah Beach but many visitors also take the opportunity to visit this beautiful place and shop from a variety of brands.
The major categories of services that the Mercato Shopping Mall has are –
Shop –

With more than 140 stores, the mall has something for everyone. A wide range of products for kids, men, women, houseware etc.
Dine –

All major cuisines are available at the Mercato Shopping Mall like Arab cuisine, French cuisine etc.
Entertainment –

There's a lot of things for entertainment purposes in the mall. VOX cinema and Fun City are the major entertainment spots in the Mercato Shopping Mall.
Events –

Mercato Shopping Mall organises various world class events of music, band etc
So what are you waiting for, add the Mercato Shopping Mall to your travel list, next time you visit Dubai.
We all know Dubai is a city full of wonders but the best part is that the city isn't stopping. It is continuing to make structures that are truly unique and astonishing. 
All the 4 places described in the blog are worth your time and will surely give you long lasting memories. Don't forget to mention them in your Dubai travel list.
Lastly, if you are still confused about how to reach Dubai and are looking for the best packages then via.com is the best option for you. Check the best Dubai packages now.