December 13, 2021
4 min to read
Top 6 Dubai foods & Dubai Cuisines
Here is a list of 6 cuisines which are loved by Dubai people or Emirati people. As you might know, Dubai is a place for adventures, best places, Expo 2020 and many other places. This blog has a list of 6 Dubai cuisines which you can enjoy if you visit Dubai.
Majboos:
Majboos is a sort of biryani in which no garam masala and yoghurt is added. It is an arabian non-vegetarian recipe which is famous among emirati people. They love to eat majboos at their festivals, events and parties.
This dish includes rice as a main item which is then served with various types of meat (Majorly chicken). Vegetables like onions, chilli and tomatoes are added with arabian spices which gives an amazing flavour to majboos.
Majboos is a fabulous option for Indian Biryani. Majboos can be eaten at the time of lunch or dinner but most of the Emirati people consume it at dinner before 3 hours of sleep.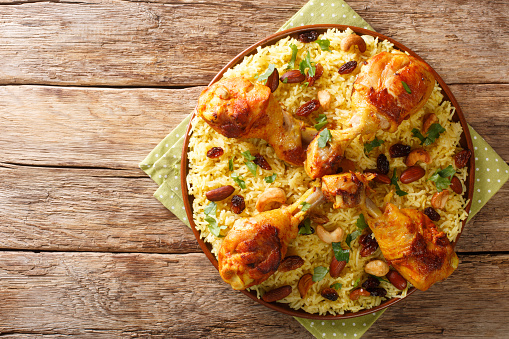 Madrouba:
Madrouba is a unique traditional dish of Arabian Gulf Cuisine. The name of the dish "Madrouba" in Arabic means "Beaten". It's meaning is really meaningful because at the last stage of preparation of Madrouba, all the ingredients are beaten together into a simple mash.
Because of a simple mash, this cuisine is easily digestible which is mostly eaten by senior people. Even the young children consume it when they are ill. 
Madrouba is a popular non-vegetarian dubai dish which is served with fish and crushed grains prepared by using onion, tomato, garlic , yoghurt and rice along with butter.
Luqaimat:
Luqaimat is a sweet of Dubai's traditional cuisine prepared at various cultural events held in Dubai and across the Emirates. Luqaimat is a Turkish fried sweet dough which is served as a dessert.
This is a sweet golden ball shaped pastry that waters the mouth just after seeing it. This looks the same as "Gulab Jamun" made from flour, sesame seeds, milk, sugar, salt, turmeric and yeast.
The batter made by mixing all those ingredients is fried in oil and then drizzled with sweet syrup.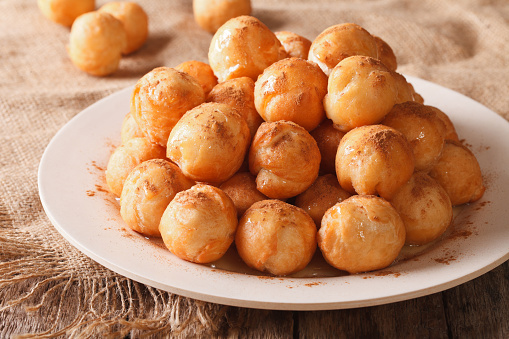 Meat Biryani:
An Indian dish which is mostly loved by every non-vegetarian lover. Not only in India but throughout the gulf region this dish gets the most traction, and obviously Dubai is not an exception.
Biryani is a mixed basmati rice with non-vegetarian mutton/meat, egg, beef and along with aroma and flavour of all the Indian spices. This dish originated from Indian Muslims.
Various different colours of rice such as orange, pink, etc are used to give an attractive look to the biryani. Biryani is eaten up with Raita (dish made up with curd and yoghurt)
The taste of biryani is loved by Emiratis (People in UAE and Dubai).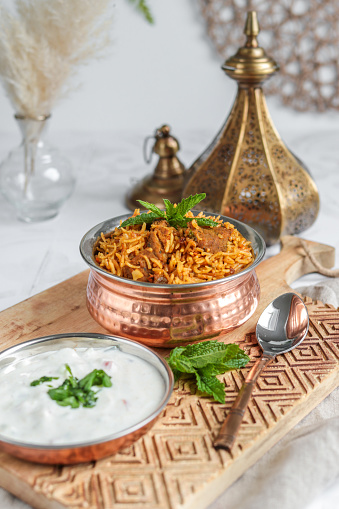 Manousheh:
Manousheh is a white flat bread recipe which is stuffed with meat, cheese, herbs or veggies. It is mostly served as a breakfast item.
Manousheh means hand pressed space in the dough to stuff the toppings and other ingredients. It is the Lebanese version of pizza. It is also called Pizza of Dubai which is the best street food in Dubai which has cost efficient prices.
Sometimes, the same dough is stuffed with sweet jam, eggs and minced lamb. The price of manousheh is INR 700 onwards.
You can have the taste of Manousheh whenever you visit Dubai!!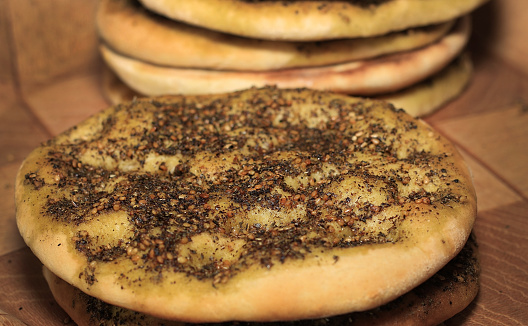 Tabbouleh:
This is a delicious and vegetarian healthy dish for all the vegetarian people living in Dubai.
Tabbouleh is a salad dish made from herbs, green veggies, onions, cucumber, tomatoes, etc. Fresh mint and lemon juice is added to give a taste to this salad.
Most of the emirati people love non-vegetarian food but some health freaks and health conscious people enjoy Tabbouleh, to maintain their body shape and size.
To add a flavour in all those salads, blueberry, corn and grape leaves are added. The price range of Tabbouleh is INR 500 onwards.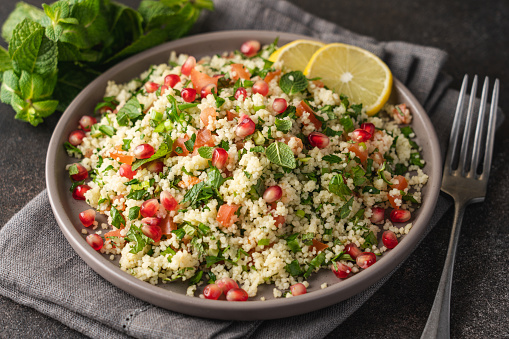 If you visit Dubai then there is a list of many such delicious items which are loved by foreigners. Take a look into the list of 5 best Dubai foods!!
Kellaj – Grilled cheesy bread with toppings
Shawarma – Best veg and non-veg street food
Khanfaroosh – Hotcake with tea
Lahm Bi Ajeen – Meat in Dough, pizza like food
Fattoush – Healthy fried bread salad
Visiting Dubai is always considered as a bliss, pleasure and trip full of happiness and joy because it has nothing less. Dubai has the best spots to travel, it also has many adventurous places to take a thrilling experience in life and it also has a list of delicious food items which you can enjoy each new day. Book your Dubai tickets from via.com