December 1, 2021
4 min to read
10 Adventures in Dubai | Try it Out!!
Adventures in Dubai are enjoyed by local and international people from and outside Dubai. Playing Dubai adventure sports is a dream for millions of people living in the world. 
Dubai is a place of adventures, parks, malls, sports and Expo.
By Expo, we mean Expo 2020 Dubai.
Expo 2020 Dubai is the international event in which 190+ countries take part. Expo 2020 is a 6 months long event in which business leaders, common people, entrepreneurs and others visit to explore new things going on in the world.
If possible, you should go to EXPO 2020 till 31st March, 2022.
Other than Expo 2020, you can enjoy all adventures in Dubai.
Here is a list of 10 adventures in Dubai. Let's go through those adventures in Dubai.
SKYDIVING – One of the best adventures in Dubai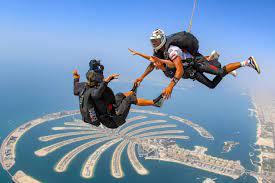 Skydiving is one of the most dreamed adventures in Dubai. Have you ever imagined jumping from 4000 metres (meaning 4 kms)?
In this adventure, you can feel a freefall of around 1 minute and after that you will have a parachute ride for the next 4-5 minutes.
You can see the whole view of Dubai, majorly Burj Khalifa, Hotel Al Arab and Palm islands from top.  You can land on 2 locations, one is Palm Jumeirah and second is in the sand dunes of Dubai Desert.
This adventure in Dubai should be experienced once in life.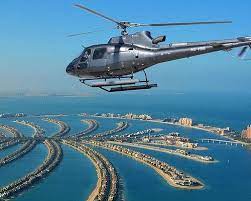 Dubai is more attractive and beautiful when you see it from the sky. The major spots of Dubai such as Burj Al Arab, Palm islands, Burj Khalifa and Dubai Fountains look amazing from up above the sky. Experiencing the whole air ride of Dubai through helicopter is one of the most beautiful adventures.
Helicopter tour starts at Dubai Police Academy Helipad in Dubai. There are 4 different rides: 12 minutes tour, 17 minutes tour, 22 minutes and 40 minutes tour.
Feel the ambience of Dubai by flying high by Helicopter.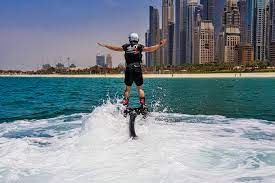 Hydro-flying or Flyboard is one of the hardest and craziest adventures in Dubai. 
You can fly high in air above water upto to the height of 14-15 feets with the help of water craft. 
Whenever you visit Dubai then hydroflying should be one of the adventures in Dubai.
Location: Jumeirah Rd, Nemo watersports is the best place to do Hydroflying in Dubai.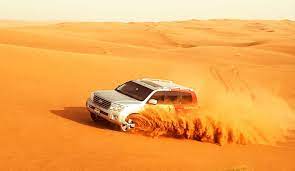 If I ask, "Who doesn't love car rides in the open air?"
And, "Who would not like car rides in the red and golden sands in the Dubai desert?"
Desert Safari in the Dubai desert is one of the easiest adventures in Dubai.
This is one of the most popular adventures in Dubai in which you travel in sand by 4×4 Desert Safari along with your loved ones and a driver or guide.
Shisha smoking, belly dance show, Tanura show and fire show are some of the activities which we can enjoy along with Desert Safari.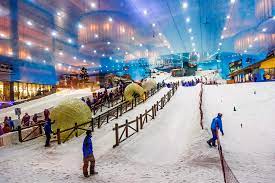 Skiing or wakeboarding is one of the most difficult adventures in Dubai. 
Only the youngsters (18 to 30 years old) and experts can do it. It needs a proper straight posture and body balance to stand still on the wakeboard. It needs more expertise to try flips and jump on the wakeboard.
Skiing or wakeboarding is a 15 minutes expensive adventure in Dubai.
Note: Try if you love to do it and if you can balance your body.
Location: Jumeirah Beach, Dubai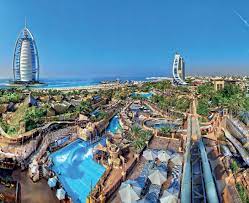 Water rides at Wild Wadi Water Park are the most thrilling and happy adventures in Dubai.
Tantrum Alley, Flow rider ride and ring rides are some of the thrilling water rides in Wild Wadi Water Park.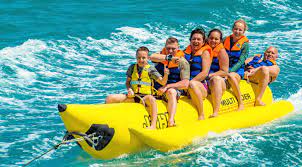 There are some adventures in Dubai which can be performed by Adults and old age people. Banana Boat ride is one of those adventures. 
You can join your family in this adventure. Soaking in the sun in the Dubai waters of Jumeirah Beach and enjoying it with your family members in this 15 minutes of Banana Boat ride is just worth visiting Dubai.
The most pleasurable moment in this boat ride is to see Burj Al Arab Hotel.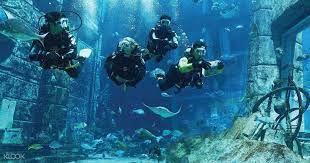 Take your feeling of pleasure to the next level by enjoying 2 hours of scuba diving with marine life.
For our whole life, we live on land but can you feel it if you live in water with millions of other marine life?
Scuba diving is an underwater activity in which you live with marine life, down the land level height 12-15 meters.
Scuba diving seems to be a very hard adventure in Dubai but with the support of experienced experts, there is no need to worry. 
Anyone above 10 years of age can perform Scuba diving inside Jumeirah Beach.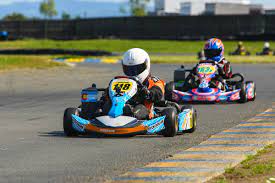 Go karting is a speed diving adventure in Dubai. You can fear up by diving your karts on ultimate high speed tracks with the support of experienced trainers.
Go karting zone is the place where you can drive go-karts, race with your friends, challenge other drivers for lap races and speed driving.
There is no need to worry about your safety because it is taken care of by all the trainers of the e-karting zone.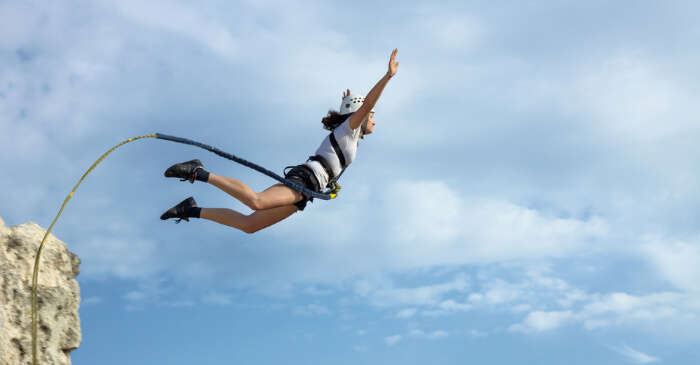 You might have heard of this adventure because this is one of the most famous adventures in Dubai.
Experiencing the thrilling freefall from greater heights is the dream of millions.
There are many BUNGEE JUMPING centers in Dubai. One of them is 'Gravity Zone', where they ensure your safety and proper landing in case of any accident.
Note: Enjoy the freefall in Bungee Jumping by the view of nature around you.
If you want to enjoy Bungee Jumping with your loved one then you can do it by teaming up while you jump.
This is the list of 10 major adventures in Dubai. Whenever you visit Dubai then take a note of all those adventures and enjoy them!!
Book your tickets to Dubai through via.com