October 4, 2021
6 min to read
How to Book Expo 2020 Dubai Tickets? | Everything about Expo 2020 Dubai packages
Expo 2020 Dubai, a GRAND celebration of Innovative and collaborative spirit. 
The word 'GRAND' itself is so fascinating. 
Expo 2020 Dubai is an International exhibition, where 190+ countries will gather to celebrate national achievements and provide a platform for innovation and global cooperation.

This Dubai Expo 2020 will bring the world together to share ideas and awareness for a sustainable and opportunistic future. 
This article is to give you all the details about Expo 2020 Dubai tickets, what are the top attractions in Dubai and at Expo 2020 Dubai and how we can help you to reach there on a pocket-friendly budget.

As a human and a part of the world, it becomes your responsibility to attend this Expo 2020 or must have a complete info about EXPO 2020 Dubai; together we can create better.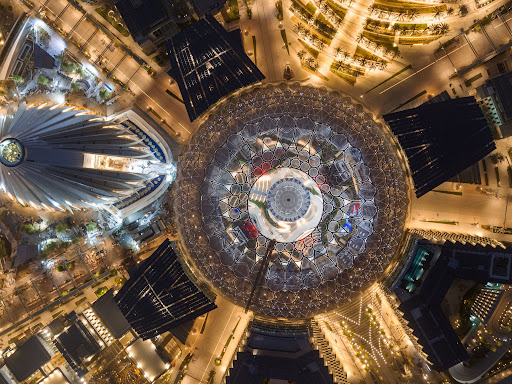 Dubai Expo 2020 dates and Dubai Expo 2020 timings
Dates – October 1, 2021 to March 31, 2021
Timings – 
Saturday to Wednesday (10:00 am to 12:00 am)
Thursday to Friday (10:00 am to 2:00 am)
Timings are subject to change due to any special circumstances or events.
As per the experts a crowd of 1,20,000 visitors will gather per day, all the Covid guidelines will be abided by the visitors on Expo 2020 site.
Let's have a glance at tickets to the tour of the world in a single city.
Expo 2020 Dubai Tickets categories
Standard Tickets
AED 95 per person 

Available until 15th October 

Unlimited access for the entire October month 

10 smart queue bookings per day to avoid long lines at pavilions
AED 495 per person 

Valid for unlimited entries for the entire 6 months

10 smart queue bookings per day to avoid long lines at pavilions and attraction points

Book your tickets on a prior basis 
AED 195 per person

Valid for consecutive 30 days from 1st day of use

10 smart queue bookings per day to avoid long lines at pavilions and attraction points

Book your tickets on a prior basis



AED 95 per person

Valid for single entry 

10 smart queue bookings per day to avoid long lines at pavilions and attraction points

Book your tickets on a prior basis



AED 1750 per person

Unlimited entries for the entire 6 months

Complimentary access to Expo B2B app to expand global business network, schedule meetings and more.

5 entries to the premium lounge at 2020 club

Guided tours and dedicated concierge 

Access to select business events 

20% discounts on a range of food and beverages 
Bundles of Expo 2020 Dubai
AED 950

2 season passes, valid for the entire 6 months

1 season pass for Nanny, valid for the entire 6 months

1 photography voucher 

Discounts on food & beverage at selected outlets while dining with family

25% discount on 5 Multi-day passes, valid for unlimited entries for consecutive 30 days

Book your tickets on a prior basis
AED 10,000

4 season passes, 30 Multi-day passes and 10 1-day tickets

Fast track entrance for member and 5 guests 

Access to Jubilee lounge by Emaar

2 24 carat gold plated Expo pins and 2 Expo passports 

5 vouchers to access garden in the sky, the rotating observation tower

Dedicated VIP parking
Attraction points at Expo 2020 Dubai
Top attractions and things to do at upcoming Expo 2020 in Dubai once the event begins.
Theme weeks
In a duration of 6 months, Expo 2020 Dubai has planned 10 theme weeks. During these weeks, the greatest challenges and opportunities of our time will be explored.

Visitors will have the opportunity to engage in discussions about climate change and space exploration, which will help shape the future of our planet.
Food & Beverages outlets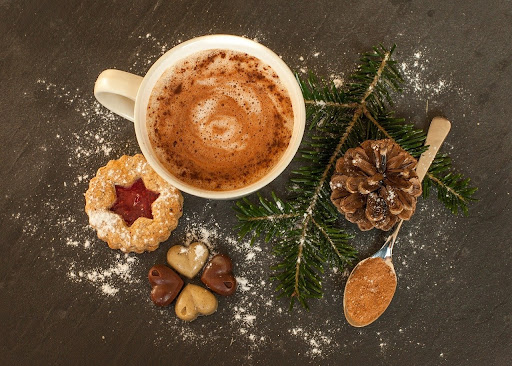 Expo 2020 Dubai will feature 200+ food and beverages outlets from different corners of the world. Don't miss a chance to taste unique dishes from various cultures. The food and beverage outlets at Expo site will include everything from budget-friendly dishes to michelin star and futuristic dining experiences.
Al Wasl Plaza: The Biggest attraction spot at Dubai Expo 2020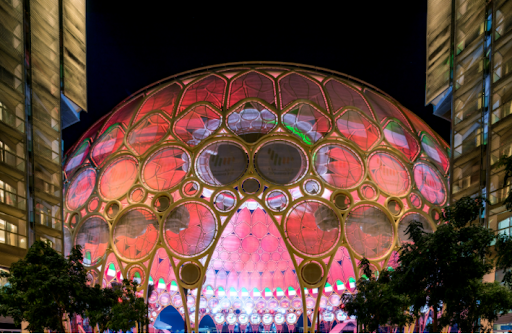 Al Wasl Plaza, World's largest 360 degree projection dome. Dubai is home to this wonder. Al wasl means 'Connection' In Arabic. This dome is the heart of Expo 2020 Dubai.
Al Wasl Plaza is a visual marvel for the visitors. It's a 130 metre wide and 67.5 metre tall dome that doubles as 360 degree laser projection surface, making it the largest of its kind. 250+ projectors work to project images onto the surface of Al Wasl Plaza dome. 
The dome's trellis framework is constructed entirely of steel. 
Al Wasl Plaza connects the three thematic districts, sustainability, mobility and opportunity.

It will be entertaining the visitors pouring into the heart from all sides with projection shows, restaurants, fountains and lush parks. Isn't it so fascinating and exciting? The excitement of visiting Expo 2020 Dubai will be 100 times more than now. 
Discover 60+ events everyday
Expo 2020 is a full-package of enjoyment for the upcoming entire six months. There'll be 60+ shows everyday. These shows are inclusive of entertainment to appeal to the visitors.
Explore exercise and games
Technology has made things easier for us. But, it has affected the generation very badly. Parents can understand how difficult it is to keep their child away from mobile games. To their happiness, Expo 2020 is bringing exercise activity and outdoor games. It's an opportunity for kids and parents to explore exciting games
Include the following attraction points in your list alongside the ones above: Sustainability Pavilion, Mobility Pavilion, Opportunity Pavilion, Art shows and cultural events, Unique school trips. 
Why should you go to Expo 2020 Dubai and book Expo 2020 Dubai tickets soon?
 
Till now, we humans have achieved a lot of things. We made driverless cars, we built land on water, and robots. We reached mars and found a possibility to live there. We made inventions. We transformed impossible to possible and yet we are not done. 
We are still striving to do even more and dreaming of doing even more.
 Countries from every corner of the world will get an international stage to promote their culture and inventions. The event is important not only from a cultural perspective rather to bring the whole world to a single page. It's the event to provoke the ideas for a better future world filled with innovation, inventions
Why should we visit Dubai and book Expo 2020 Dubai tickets?
Dubai, a perfect example of growth and reinvention attracts lakhs of tourists across the globe. Dubai attracts the visitors with its historic stories and vibrant cosmopolitan life.
Dubai is known for mega malls and the world's tallest building and the largest artificial islands in the world. This is the perfect time to visit Dubai if you have never been because a special event is already taking place.
Alongside to Expo 2020 Dubai, listing a few more reasons to go to Dubai which can push you to book Expo 2020 Dubai tickets,
World's most impressive skyline is in Dubai

Burj Khalifa, tallest building in the world

Visit the mega malls

Try for skiing in desert

Biggest foundation display in the world

Palm Jumeirah, world's largest artificial island
Are these facts exciting enough for you to plan your tour to Dubai and book your Expo 2020 Dubai tickets ? Ideally, it should.
We have a better plan for you which includes a visit to various places in Dubai and the most importantly EXPO 2020 Dubai.

Checkout the Expo 2020 Dubai tickets and packages to enjoy at fullest.
Book your flight tickets and now with via.com, packages starting @Rs 28740.
Limited tickets are available.