October 8, 2021
5 min to read
5 places for visit in Dubai | Last place is the best among all places for visit in Dubai
There are millions of people who search on Google, "5 places for visit in Dubai", "5 places to visit in Dubai", "5 places for visit in Dubai in 5 days" and many more searches happen on a daily basis.
But, Why Dubai?
Dubai, a perfect example of growth and reinvention attracts lakhs of tourists across the globe for visit in Dubai. This exquisite city attracts visitors with its historic stories and vibrant cosmopolitan life.
A megacity that never stops growing is the face of many of the biggest faces of the world. A plethora of tourist attractions and lavish architecture can be found in this world-class city.
If you're an adventurer, there are lots of possibilities, like skydiving over a palm island, going on a desert safari, wreck diving, wakeboarding, etc. Being a traveler making a list wouldn't make you lose any incredible places for visit in Dubai. There is an endless list of places and things to do in Dubai. This article contains a list of the 5 places to visit in Dubai, don't miss the last one.
To add to the list of boundless adventures this Arabian gem is inviting the whole world. Expo 2020 Dubai, the largest expo in history and the latest one is hosted here. Dubai Expo 2020 will make this city a centerpiece of post-pandemic travel.
Let's add the 5 best places for visit in Dubai in your itinerary.
Before beginning your tour to Dubai, ensure you book a luxury transfer to Dubai through via.com. Explore the city as soon as you arrive. One of the globally recognized places you shouldn't miss out on is Burj Khalifa.
Burj Khalifa is a global icon and the tallest man-made building in the world. This building represents the conceptual heart and soul of the city of Dubai. A must to do a thing after visiting Burj Khalifa is to ride the elevator to the very top of the tallest building.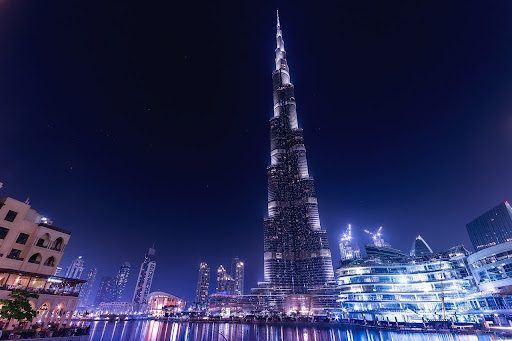 There are two observation decks to enjoy the view from this magnificent building, first one is A the Top on the 124th &125th Burj Khalifa floors as well as the world's highest observation deck (555m) on the 148th Burj Khalifa floor.
The best time to book your ride would be around sunset or sunrise to enjoy the spectacular views.
Al Arab hotel, one of the luxurious hotels in the world is located in Dubai UAE, United Arab Emirates. The hotel is managed by the Jumeirah hotel group.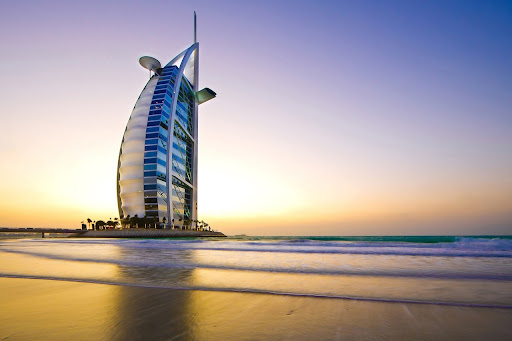 Its structure makes it a point of attraction, the shape of this hotel is designed to resemble the sail of a ship. At the time of inauguration, Al Arab hotel was the tallest hotel in the world. 39% of its total height is made up of non-occupiable space.
It's unusual to find a hotel of this much height, in the shape of the sail of the ship, especially one built on an artificial island in the middle of the sea. 
We, humans, are never done. The brilliant and extraordinary minds never stop. We have made monuments and cut through continents. We have built cities on the sand, turned the sea into land.
Seems weird. Right?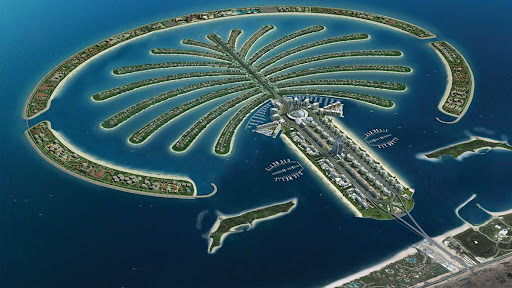 But that's true. Palm Island is the world's largest artificial island and has a unique architecture. The palm island includes 3 islands at the coast of Dubai, Palm Jumeirah, Palm Lebel and Deira Island. This island looks spectacular from the sky. This is one of the best places for visit in Dubai to explore adventurous activities and home to 5000 waterfront apartments, 4000 residential villas, 1000 water homes and 60 luxury hotels. A person can find a lot of other things to explore and enjoy including indoor activities, Health spas, Shopping malls, restaurants etc.
No one can think of escaping from the compelling view and blissful dance of Dubai Fountain. Dubai fountain is the largest choreographed fountain in the world located in the huge man-made lake at Burj Khalifa.Water, light, and music create a stunning array. There are 1000 patterns of water and light projected at the site using 50 colour projectors and 6600 lights.  
Dubai fountains attract thousands of visitors every day.  You can experience this wonder even closer to the Dubai fountain.
Expo 2020 Dubai, the best place for visit in Dubai. Dubai sightseeing wouldn't be completed without Dubai Expo 2020. Missing Expo 2020 Dubai would be the biggest regret of your life.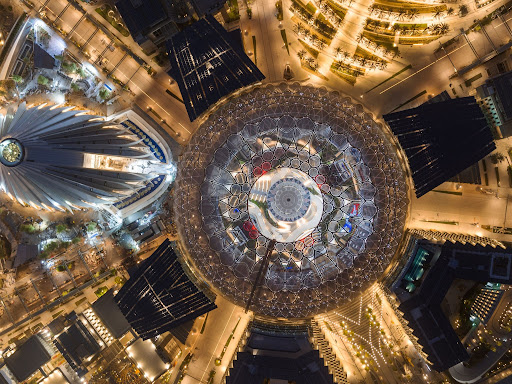 This place may be unheard of to you. Don't panic my friend, I am here to make your trip to Dubai even more memorable. Taking you on a tour to the most important place of Dubai Expo 2020 site.
What is Expo 2020 Dubai? 
Expo 2020 is an international exhibition going to be held in Dubai from 3rd October 2021 to 31st March 2021. More than 190+ countries will be participating in this mega event in order to showcase their inventions and innovation to make the world a better place.  
The theme of Expo 2020 is, 'Connecting minds and creating the future' including three sub themes sustainability, mobility and opportunity. It's a grand celebration of innovative and collaborative spirit. 
People from every corner will contribute and ideate to build a bright future. Enjoy 60+ live events everyday and try the best mouth watering food & beverages.
Bless your eyes with the heart of Expo 2020 Dubai.
If I had to recommend a single place to make your trip to Dubai memorable. I'll answer, 'Al Wasl Plaza because that's the centerpiece of the expo site. 
Al Wasl Plaza, World's largest 360 degree projection dome. Al Wasl Plaza is a visual marvel for the visitors. It's a 130 metres wide and 67.5-metres tall dome that doubles as a 360-degree laser projection surface, making it the largest of its kind.
250+ projectors work to project images onto the surface of Al Wasl Plaza dome. List in way too long to jot down here. Why don't you go there and experience it?
We were on a short trip to Expo 2020 Dubai. We have to end this short trip here because you want to explore all of these places in real life. Your mind will blow after sightseeing in Dubai.
We know you are dying to go to Dubai for the adventurous safari rides with Barbeque dinner, dance, spectacular views from the tallest building in the world and an unforgettable experience at Expo 2020 Dubai.
For your good news, via.com is providing packages to Dubai which includes trips to most of the above-mentioned places. Don't even think of booking the tickets later. Book your tickets now otherwise you'll miss the special offer. Get ₹1999 off on the first 100 bookings.