June 20, 2016
2 min to read
Via Diaries With Blogger Lakshmi Sharath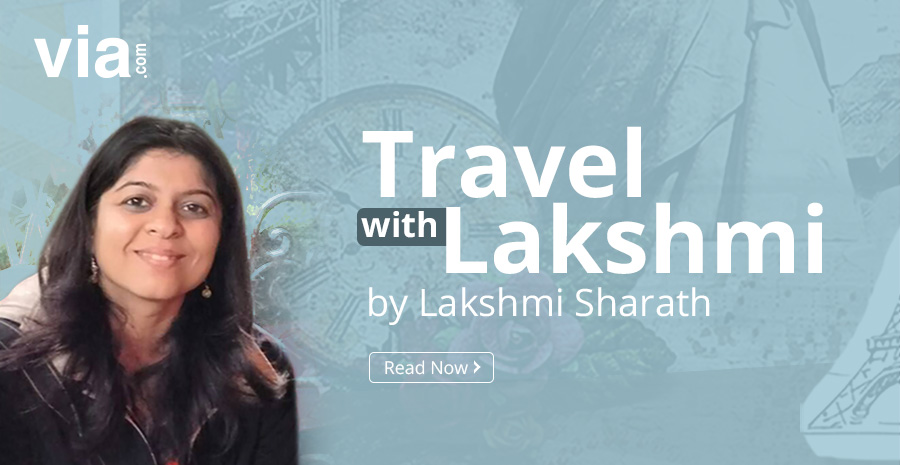 Lakshmi was a media professional for over 15 years, when one day she decided to quit sitting behind a desk and to literally step out into the unknown. Her wanderlust has taken her to 5 continents and over 25 countries. And yet, she still yearns to explore the nooks and corners of her own country.
One of the leading travel bloggers of the country, Lakshmi has written for several news dailies. Her keen eye for travel photography adds to her unique storytelling style of writing. As an eminent travel writer she has worked with numerous tourism boards and associations.
Want to know more about her awe-inspiring journey? Read on about Lakshmi Sharath and her blog.
Q. What inspired you to blog about travel? What place was your first travel blog about?
 A. I started travel blogging to share my travel experiences and to practise my writing skills. Masinagudi was the first destination I wrote about
Q. How do you prefer to travel (mode of transportation)?
A.  I either take a train or a flight, or just take my own vehicle
Q. What are your favourite travel destinations (Indian & International)
A. In India it would be Tamil Nadu and Ladakh. Outside of India, I really like Turkey or anywhere in Europe
Q. Who/what is your ideal travel partner?
A. My husband is my ideal travel partner
Q. What do you look for in a destination?
A. I always look for a bit of solitude. I prefer destinations with beautiful locales and cultures.
Q. 

What are the 5 things you always pack in your travel bag?

A. My phone, my sunscreen, a pair of flipflops, camera and a notebook
Q. What has been your most memorable journey so far? Why?
A. My most memorable journey has been to Ladakh. We had just then landed in Leh and had stopped to discuss our ten day itinerary . A thin, wiry man named Dorjee was our driver and guide. He was like any typical tourist driver who went about dropping us like a courier boy from one monastery to another. The only thing that seemed to excite him were Bollywood songs from Dil Hai Ki Manta Nahin, Aashiqui and Saajan –  and the music he played decided the mood we were in .
We had just entered the Taglang la pass at 17,500 feet when it started to snow. While I started taking photographs , Dorjee frowned. Coming from a man who would throw caution to the winds, the frown meant trouble. He urged us to get into the jeep and we barely crossed the pass when the snow storm started. Dorjee got off the car, and while dressed in just a thin navy blue jacket and ordinary shoes, he removed the snow from the road with his own hands. Many hours later the road was cleared by him and a troop of men, while the police and other tourists sat in the jeeps and watched. Dorjee not only saved the day, he also displayed what real Ladakhi spirit means.
 Q. What is your dream destination?
A. I wish to see the Northern Lights
Q. Which blogs do you follow?
A. I follow several of them