January 23, 2022
6 min to read
15 Not-to-miss Tourism Places when you visit Dubai!
What pictures flash your retina when you read or hear the word 'Dubai'? 
Well, luxurious resorts, beachfront villas, adventurous desert safaris, and least to mention, the tallest building in the world, The Burj Khalifa are some places to visit in Dubai.
But, you will be amazed to know that there are tons of other magical places worth visiting!!
Dubai, being the capital city of UAE and a tourism hub, has the second most 5-star hotels in the world. 
These hotels promise diversifying geographical backgrounds and mesmerizing places for all the travel enthusiasts. 
What we see today as Dubai, was once a tiny fishing village(18th century) inhabited by not more than 700 people. 
Even today, many places emanate refreshing vibes that trail back to 18th century Dubai. 
To help you discover such exceptional places to visit in Dubai and peep inside of Dubai, we have carefully selected the top 15 places to visit in Dubai. 
Dubai Frame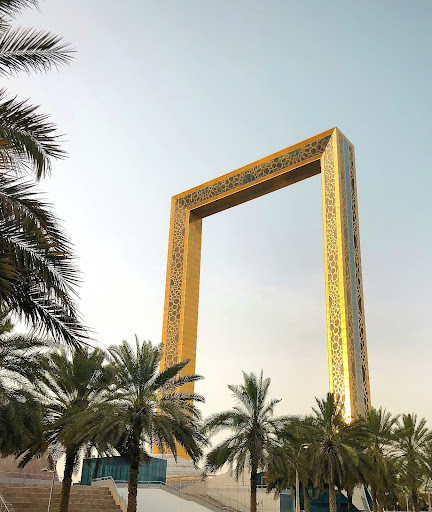 The Dubai frame is a representation of the city's magnificent architectural designs.
The massive frame(150 m in height and 93 m in breadth) is a representation of brilliant graphic and animation albums, depicting Dubai's past, present and future developments. 
Location – Zabeel Park\
Price – 48 to 73 AED
You can reach the Dubai frame via a metro or a taxi/cab.  
Laguna Waterpark
Laguna Waterpark is an aquarium paradise full of water slides, race slides, raft slides, water play areas and other fun activities. 
Being Laguna's largest water service, the water park perfectly suits to cheer kids and teenagers. 
Location – La Mer
Price – 92 – 116 AED
Diving into the infinity pool, testing your surfing skills and sliding down the craziest water slides are some one-of-a-kind experiences to live!!
Dubai Miracle Garden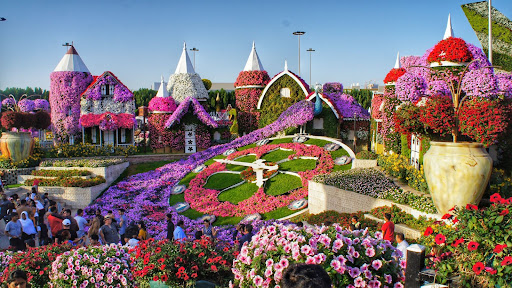 Dubai Miracle garden is exclusively for nature enthusiasts. The garden surprises you with colorful designs, blooming flowers and caressing breeze. 
The garden was launched on Valentine's day and with 50 million flowers make it the world's largest natural flower garden. 
Location – Al Barsha South 3, Barsha, Dubailand Area – Dubai – United Arab Emirates  
Price – 117 to185 AED
Lake Park, Umbrella Tunnel, Giant Teddy Bear and Floral Clock are some of the prominent points to visit. 
Global Village
Global Village is Dubai's leading family entertainment hub where visitors encounter 31 pavilions, each representing a different country across the globe. 
The Global village hosts more than 12,000 shows across a period of 5 months. 
Location – Sheikh Mohammed Bin Zayed Road Dubai
Price – 13 – 16 AED
Honolo-loop, Jamaica Drum, Vroom UAE, and Miami Surf are some of the shows worth attending, especially with family and kids. 
La Perle by Dragone Dubai
La Perle is Dubai's first permanent show that brings together stellar choreography and thrilling stunts in an aqua theater. 
The show is created by the legendary director, Franco Dragone. La Perle expresses its gratitude for the pearl diving history of the emirates.
Location – Franco Aqua Dragone Theater, Dubai
La Perle captivates its audience with a superb theatrical performance and daring stunts!
Madame Tussauds
Madame Tussauds is an exciting addition to Dubai's tourism places that invites thousands of visitors to its alluring beauty.
Visitors can click pictures with their beloved celebrities like Cristiano Ronaldo, Shah Rukh Khan, the Queen of England and many more.
Location – Bluewaters Island, Dubai
Price – 28 AED
The Museum also has a party hall where visitors can interact and enjoy the beautiful architecture and designs. 
View at Palm (Palm Jumeirah)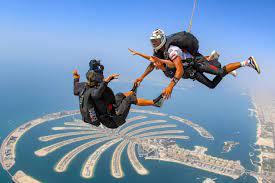 Palm Jumeirah, built from reclaimed land in a series of artificial archipelagos, is shaped like a palm tree when looked from above. 
It took over 6 years to lay down the humongous architecture of Palm Jumeirah on the Persian Gulf.
Location: Dubai – United Arab Emirates
Price – 1516 – 1815 AED
Sailing around the Palm Jumeirah on a yacht or a speedboat are the popular options to explore the unimaginable beauty of the manmade island. 
Motiongate
Motiongate is a place filled with thrill and adventure. 
The Motiongate park is a themed-park inspired from Hollywood and one can find various Hollywood actors strolling around in the park.
Location – Dubai Parks and Resorts, Sheikh Zayed Road
Price – 213 – 266 AED
The Green Hornets High-Speed Chase and the Madagascar Mar Pursuit are some of the rides that you shouldn't miss on your visit!
The Green Planet
As the name suggests, The Green Planet is home to innumerable species comprising both flora and fauna. 
The Green Planet project has won many significant awards to recreate tropical forest within the city bounds. 
Location – City Walk
Price – 70 to 88 AED 
Some major attraction points include, Sloth Encounter, The Bat Cave, the Australian walkabout and Piranhas eat.
Dubai Opera
Dubai Opera is a host for fabulous performances with artful dance, euphoric music and glamourous stage plays. 
With a 2000-seat, multi format, performing arts center, Dubai Opera amazes the audience with its intricate architecture and brilliance. 
Location – Sheikh Mohammed Bin Rashid, Near Burj Khalifa, Downtown Dubai – Dubai – United Arab Emirates
Price – 95 – 950 AED
The Dubai Opera offers an interesting adaptability of a proscenium curve theater, an acoustic show corridor and housetop eatery. 
Mall of the Emirates
Mall of Emirates is the second-largest shopping center in Dubai. 
With innumerable restaurants, cafes, clothing shops and thousands of high-end brands, the Mall of Emirates is a perfect place for shopping geeks.
Location –  Mall of The Emirates, E11 Sheikh Zayed Road, Dubai, United Arab Emirates
The Mall of Emirates is also blessed with a 5-star hotel named Kempinski and 14 cinema halls. There is no entry price as such. 
The Aura Sky pool
The Aura Sky Pool is heaven on Earth. This is the highest infinity pool in the world and it offers a 350 degree view of Dubai's skyline. 
With a record height of 200 m, the Aura sky pool ensures you dive into every bit of beauty and amaze. 
Location – Palm Tower, Dubai
Price – 171 to 202 AED
The pool is surrounded with a spacious lounge, with visitors free to relax into it with their sizzling drink!!
Dubai Museum
Dubai Museum takes its visitors to the ancient era which portrays Dubai's rich cultural heritage. 
The Museum is the one of the oldest buildings in Dubai, that was built in 1971 by the then ruler of Dubai.
Location – Al Faidi Street, opposite the Grand Mosque
Price – 1 to 5 AED
The Dubai Museum narrates the historical tale of Dubai, when oil was discovered in emirates. The museum is filled with archeological artifacts and maps!
Deira Clocktower
Deira Clocktower is among the 17 most beautiful clock towers in the world. 
It is one of the oldest monuments of Dubai (built in the 1960s) that stands proudly at the convergence of all major routes to Dubai.
Location – Al Maktoum Rd – Deira – Dubai – United Arab Emirates
Deira Clock Tower is a notable piece of architecture that has been a symbol of Dubai for the past 50 years. 
Cayan Tower
The Cayan Tower is yet another representation of Dubai's outstanding architecture.
With every floor similar to the previous, the Cayan Tower is no better than a maze. The top floors of the tower promise the stellar views of the Arabian Gulf and Dubai Marina.  
 Location – 202, Al Barsha Heights, Tecom, Dubai Marina – Dubai – United Arab Emirates
The Cayan Tower is closed on weekends for the tourists. 
This ends the list of 15 not-to-miss Tourism Places of Dubai! 
Dubai is a home to more such attractive and superb architectural monuments that can elevate your mood to the highest level possible. 
To keep yourself updated and know more about different tourism places, do check Via.com blogs.