January 4, 2022
4 min to read
List of 5 best Airport in UAE | VIA.com
Airports, just a common word? No, it's not. Airport in UAE are never off duty, they open 24*7 to make the transport feasible for travelers, businessmen. There are airports in the world that hold the title of being the busiest airport. There are multiple flights flying every day to establish contact between two destinations and here is a list of airport in UAE.
The UAE is known for its growing economy and world-class airports. These prestigious airports are known for their convenient service, excellent performance, top-notch quality and astonishing infrastructure. 
Every year, millions of tourists visit this fastest-growing country. Airports leave a great impact on people who visit the country every year. 
This article will make you aware of these world-class airports in the UAE. 
| | | | | |
| --- | --- | --- | --- | --- |
| IATA | Name | City | Airlines | Destinations |
| DXB | Dubai International Airport | Dubai | 84 | 188 |
| AUH | Abu Dhabi International Airport | Abu Dhabi | 58 | 87 |
| DWC | Sharjah International Airport | Sharjah | 16 | 78 |
#5. Ras Al Khaimah Airport in UAE
In the list of the 5 biggest airports in UAE, Ras Al Khaimah Airport ranks at number 5. The Cargo business is the primary focus of this airport in UAE. For the one who isn't aware of the term 'Cargo Business', Cargo Businesses facilitated the shipment of goods & products through airlines.  
Ras Al Khaimah Airport is served by Air Arabia, Air India Express, Luxair, Ural Airlines, Smartwings Poland, and Pegasus Airlines. 
Ras Al Khaimah Airport offers aircraft maintenance and training services in addition to two passenger terminals. Besides these facilities, the airport offers a few other amenities, such as VIP terminals, medical facilities, police stations, shops, dining areas, lounges, and a prayer room for Muslims at both arrival and departure terminals. 
At Ras Al Khaimah Airport, you also have the facility of FREE wifi to enjoy the movies before boarding a long flight. 
Location- This airport is located in the Persian Gulf of Ras Al Khaimah, 20Km south of the main town. 
#4. Al Bateen Executive Airport in UAE
Among the 5 best airport in UAE, Al Bateen Executive Airport holds 4th position. This airport is majorly known as Business Aviation Airport. This airport is located at the heart of Abu Dhabi. It is easily accessible from the business hubs. 
It was the main aviation centre till 1982, before the opening of AUH. This Executive airport has the capacity to hold 30 private jets & an ideal fuel location. 
The airport offers world-class facilities, such as luxury cars from the terminal to the aircraft, fast baggage screening, conference rooms, and a luxurious lounge area. 
Location – 50 minutes travel from Dubai, 5 minutes from Abu Dhabi Exhibition centre & 15 minutes from the city. 
#3. Sharjah International Airport in UAE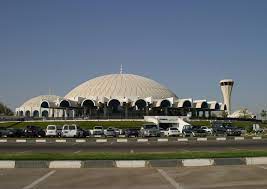 In the list of 5 best airport in UAE, Sharjah International Airport ranks 3rd. This airport holds this ranking based on its size, facilities and services. Sharjah Airports have 8 departure gates and 25 aircraft stands. 
The few operating airlines on this airport are Air Arabia, Etihad Airways, Saudi Airlines, Egypt air. Sharjah International airport was established in 1977 and is considered the second largest and busiest freight centre in the Middle East. Sharjah airport manages a transport capacity of 500,000t every year. 
A 2012 report has shown, the airport handled 5 million passengers and 332796t of Cargo. 
If we talk about infrastructure, there are prayer rooms, Dining areas, and a seating area with lounges. You can relish in air-conditioned coaches and free WIFI. Now, watch movies before onboarding a long flight.
Sharjah International Airport is located 15km away from Sharjah city centre
#2. Abu Dhabi International Airport in UAE
In the United Arab Emirates, Abu Dhabi International Airport is the second largest and best airport. This esteemed and world famous airport is owned by the Abu Dhabi government. Without any delay, let's jump on to the infrastructure. 
The Abu Dhabi bus service was introduced in 2008 by making travelling more convenient from airport to city or vice versa. 
There are 3 terminals and the 3rd is the newest addition to the list. The airport is chiefly operated by Etihad airways including Airbus. More than 30 airlines depart from Abu Dhabi Airport to more than 100 destinations in 50+ countries. To save your time and avoid long check-in queues at the airport by checking in at the city terminal, a building in downtown Abu Dhabi. 
Location – 38 km southeast of central Abu Dhabi
#1. Dubai International Airport in UAE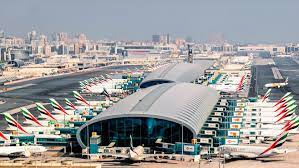 Dubai is a world-famous city known for its luxury. Dubai International Airport abbreviated as DBX is an international airport serving flights all over the world. This airport serves flights to every country in the world. 
Located in the heart of the city, this posh airport is accessible via taxi or metro from any part of the city. Dubai offers a posh experience to its travellers.  Dubai International Airport is a 3 terminal airport. 
Dubai International Airport is the 3rd busiest airport in the world having a world record of managing 88 million passengers in the year of 2017.  In the airport, you can find big brand stores like Jimmy choo, chanel and many more. There are lounges at the airport where you can relax and enjoy free wifi by watching movies before boarding a long flight.  
Location – Dubai International airport is located in Al Garhoud district, 4.6 km east of Dubai
Apart from these 5, there are a few more airports in the UAE. In future, if you have any plans to visit the country of riches, prefer the best and prestigious airport, Dubai International airport. It provides you with various transport facilities to every corner of the city. 
Explore the fastest growing economy in the world, Dubai with via.com. For your kind information, Dubai has invited the whole world for a grand expo. Where more than 190 countries will be participating to showcase their innovation, culture and future envisioning towards the world. No time would be better than now to visit Dubai.
Visit via.com to book your Dubai packages now.