January 20, 2022
2 min to read
5 mouth-watering sweets of Dubai | Via.com
Dubai is special for many things such as adventures, skyscrapers, malls, gardens, waterfalls, beaches and what not?
But in this blog we will try to explore one more special and delicious thing in Dubai i.e Mouth-watering sweets in Dubai.
People in Dubai love non-vegetarian cuisine but along with it they love sweet desserts too.
Here is the list of 5 Sweets which are famous in Dubai.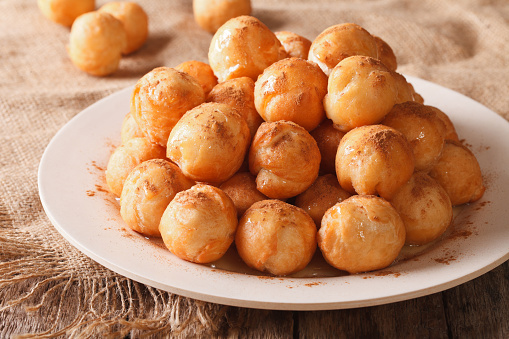 Luqaimat is a mouth-watering deep fried sweet ball. Those sweet balls topped with sugar syrup, honey syrup and nutella.
Luqaimat is enjoyed by every Emiratis and people from eastern countries at Ramadan, Eid and other celebrations.
Ingredients:
Flour
Yeast
Milk Powder
Sugar
Cardamom Powder
Oil/Ghee
Honey
Whenever you visit Dubai, enjoy those sweet deeply fried balls.
Basbousa is a famous sweet in middle eastern countries. This sweet is mostly eaten in Egypt during celebration or festival times. Basbousa is a cake soaked in syrup. Coconut juice, semolina is spread on the nuts and then mixed with a syrup to prepare the final cake.
Basbousa is sold in every part and corner of Egypt. Every retailer or bakery owner prepares their unique basbousa by putting different flavors in the cake.
Things you will need to make the best Basbousa:
Farina

Yogurt

Ghee 

Sugar

Honey

Baking Powder

Shredded Coconut
Enjoy Basbousa whenever you visit Dubai.
A delicious arabic dessert made from soft cheese dough covered with different flavors of cream and jam.
Halawat El Jibn is a light, smooth dessert which is a combination of amazing flavors with different textures. The outer layer of Halawat El Jibn is made up of cheese, semolina, sugar and rose petals. The cheese dough is rolled on fine sheets with different clotted cream flavor.
Ingredients required:
Sugar

Semolina

Lemon Juice

Rose Water

Mozzarella Cheese
This sweet dessert is loved in all the arabic countries. This orange and yellow coloured sweet is made with maggie-like pastry and semolina. Then it is dipped into sweet sugar syrup and a cheesy filling.
After soaking it into sweet syrup, the mixture of nuts is added to give an amazing feel and crunchy taste. 
Ingredients:
Kunafa (Noodle like threads)

Ghee

Milk

Corn Starch

Sweet Cheese

Sugar Syrup
This recipe is easy to make and it is made at every home in Dubai or arabic countries. If any of your relatives live in Dubai then try Kunafa (Knafeh) at their home.
The name of this sizzling dish has a fabulous history in the past. The name of Ali's mother was Umm Ali. Umm Ali was the biggest rival of the ruler's wife. Due to this rivalry, the ruler's wife ordered his team regarding Umm Ali's death.
To celebrate her death she ordered this milky dessert and named it as Umm Ali. This dessert was spread all over the world. 
This dessert consists of pastry, milk, cream and nuts to get a delicious taste.
Ingredients:
Frozen Puff Pastry

Milk

Sugar

Vanilla Extract

Nuts, almond &, raisins
Below is a list of some exotic dishes of Dubai:
Oozie – Ramadan Special

Kellaj – A Cheesy Delight

Shawarma

Samboosa

Khanfaroosh

Mahalabiya

Falafel

Shirin Polo

Oman chips roll

Mandi
Whenever you get a chance to visit Dubai, just go and eat some famous cuisines or else make it at your home by learning the recipe.