November 10, 2016
3 min to read
World's Most Stunning Sculptures
Sculptures are fairly common but only a handful of them makes you stop and take notice. Here are the best of the lot that stands out for their sheer ingenuity, unique concept, creative brilliance or extreme scale.
Expansion, New York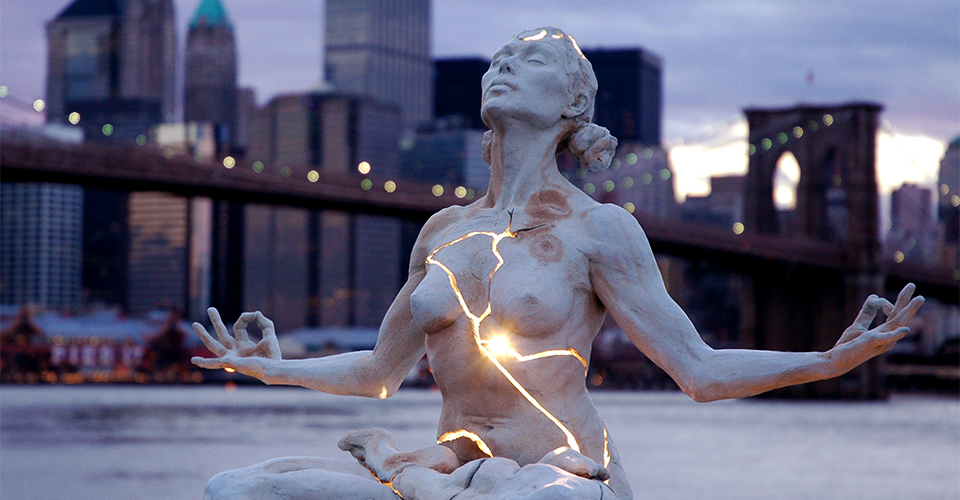 There is a riveting story behind this beautiful sculpture. When sculptor Paige Bradley moved to Manhattan, she was told that everything figurative was already done and the only way to create art that gets noticed anymore was to be a 'visionary' – let her walls crumble and simply trust the process of creating art. She went home, took a beautiful wax sculpture of a lady meditating in the lotus position and smashed it to the ground. Though initially shocked, she trusted her wits and began casting all the pieces in bronze and assembled the pieces so they floated apart from one another. Then she brought in a lighting specialist and built a crazy lighting system to make it glow from within.
The Force Of Nature, Bristol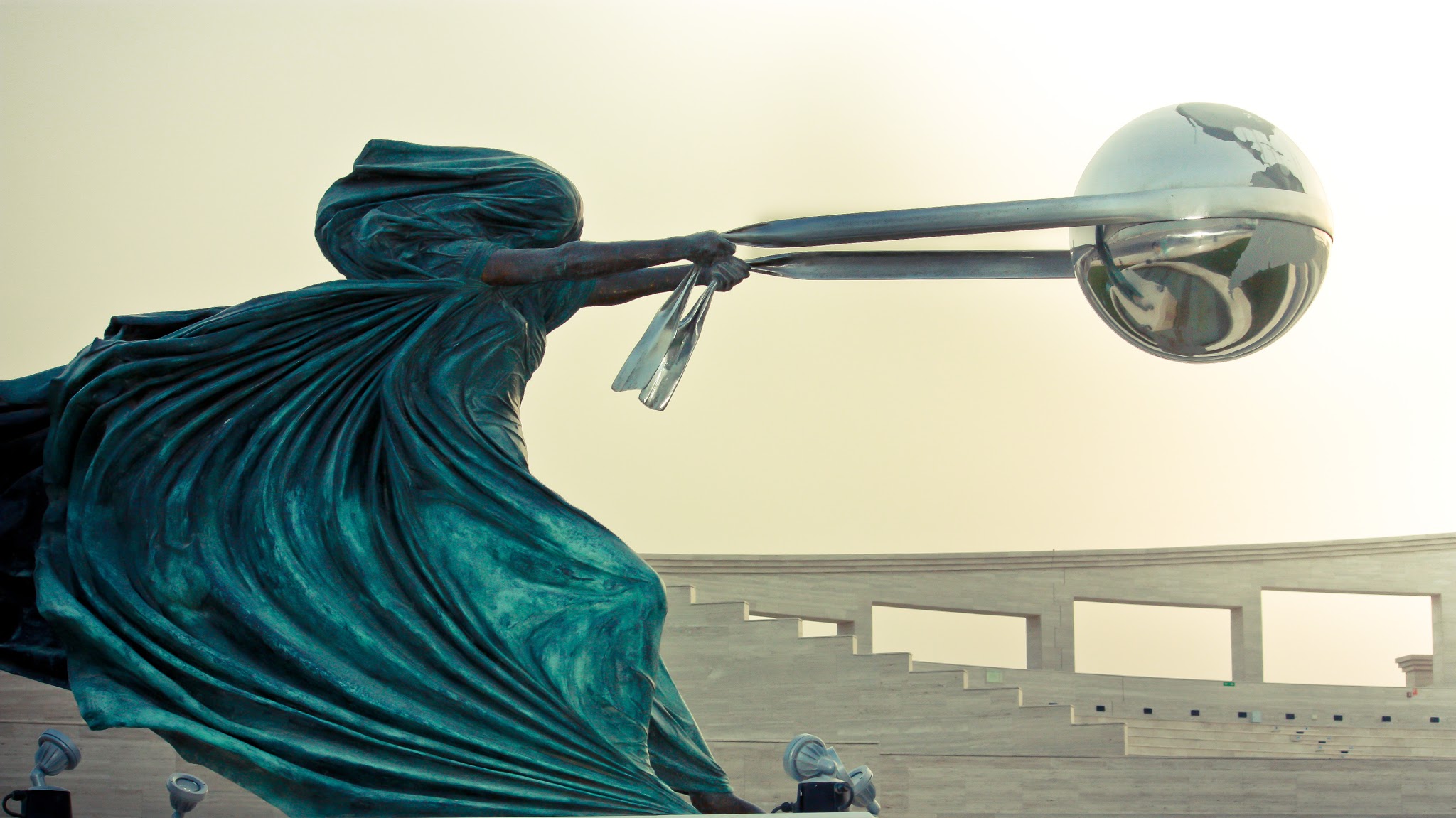 Italian artist Lorenzo Quinn was inspired to create this stunning sculpture after witnessing nature's unhinged fury  during hurricanes in Thailand and Southern US. Crafted from bronze, steel and aluminum, the sculpture depicts mother nature wildly swinging our planet around in circles. The artist intention was to create a work that represented human being's 'false sense of superiority' towards nature. Lorenzo Quinn received international acclaim for his triumph in conveying a furious and dynamic energy without a single moving element.
Mustangs, Texas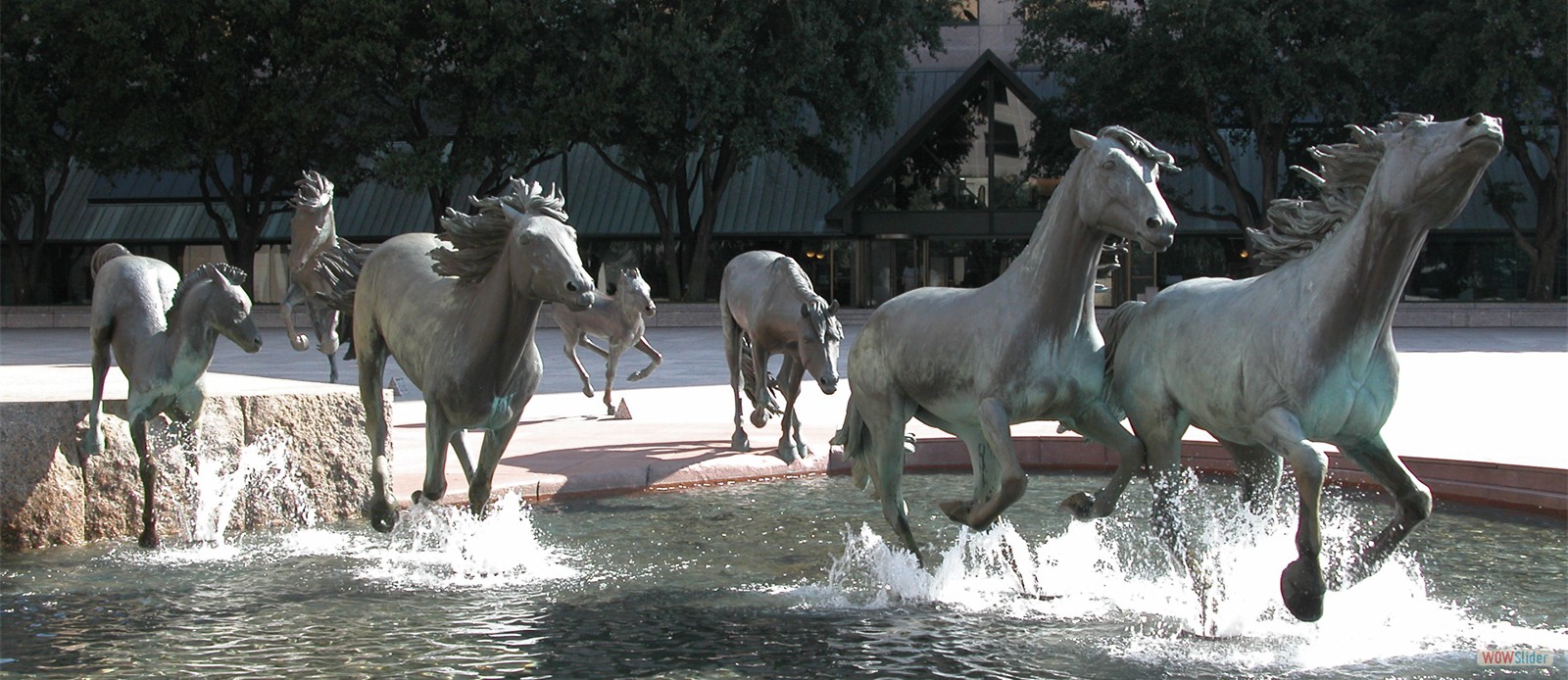 This is a magnificent bronze sculpture of nine wild mustangs galloping across a granite stream. It is currently the largest equestrian sculpture in the world and is hailed for its accurate depiction of the essence and movement of the beast. The sculptor, Robert Glen credits the adulation to his obsessive study of anatomy and insistence of using live specimens  as subjects rather than photographs. The work was installed in 1984 in Williams Square at Las Colinas, Texas.
Metalmorphosis, Charlotte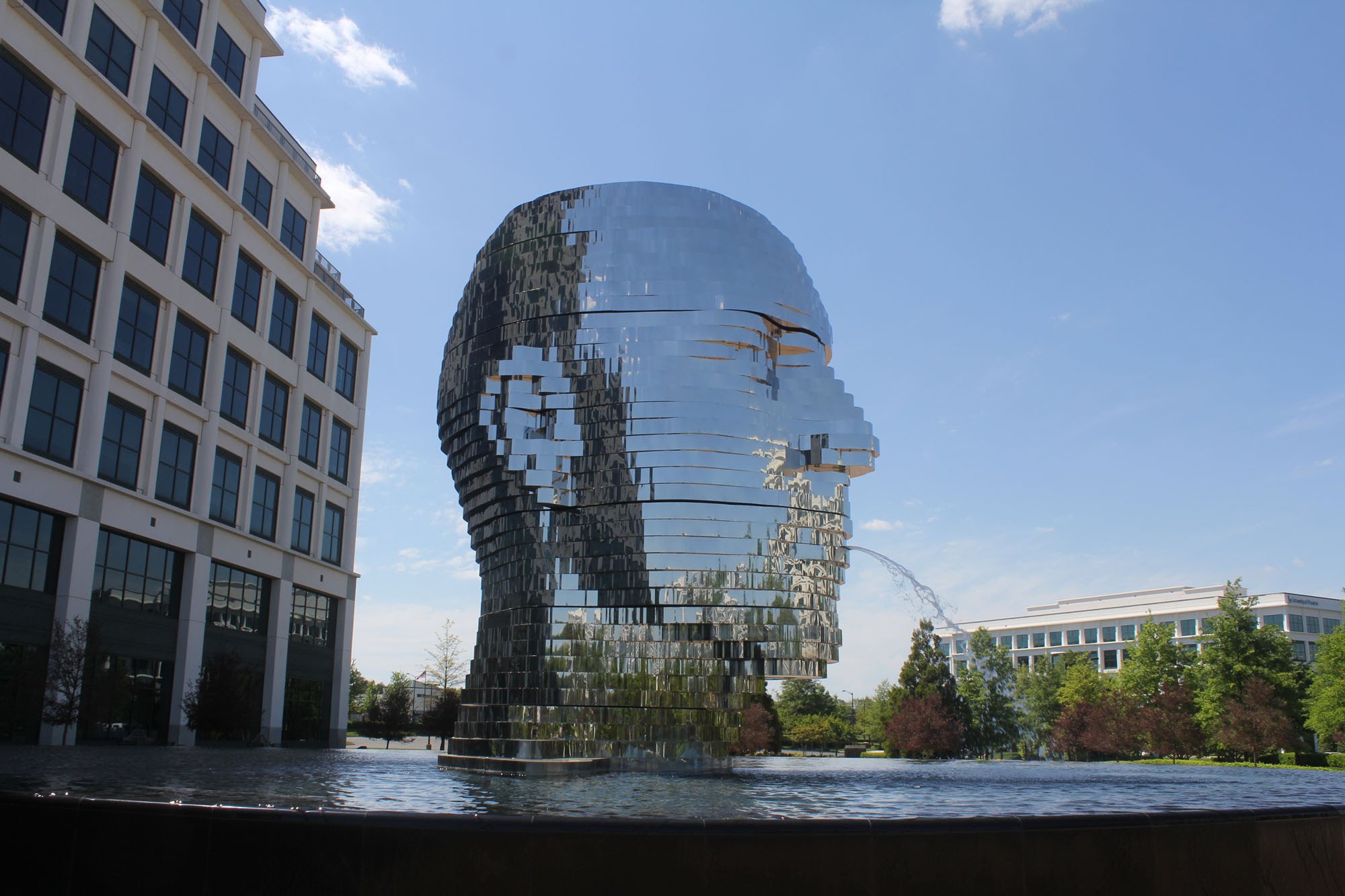 This 14-ton mirrored sculpture is housed in the Whitehall Technology Park in Charlotte, North Carolina. It is one of the subtler works of controversial Czech artist David Černý and comprises of 40 steel pieces segmented into 7 layers capable of independent 360 degree rotation. When the internet-controlled motors are engaged, the sculpture becomes a mesmerizing dynamic showpiece that alternates between a human head and various abstract shapes. When asked about the inspiration for the piece, Černý said," This is how I feel; it is a mental self-portrait."
Black Ghost, Lithuania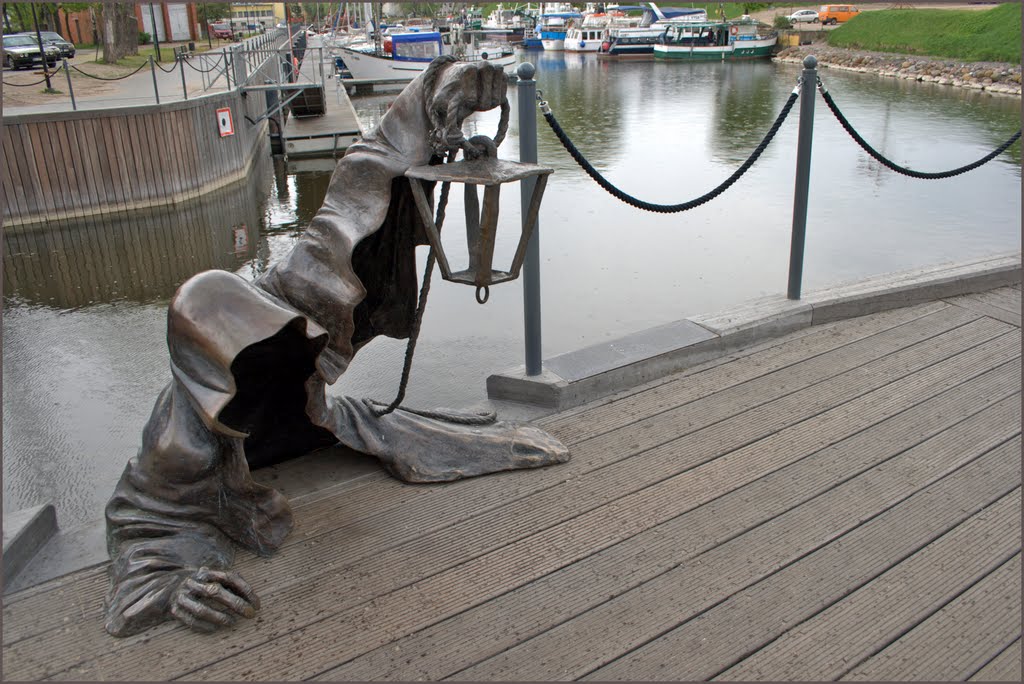 This spooky sculpture, located in Klaipeda is one of Lithuania's most celebrated statues. Christened 'Juodasis Vaiduoklis' or the 'The Black Ghost', the statue can be best described as 'lovely, in a twisted and dark way'. It stands at an impressive 2.4 meters and is crafted from bronze. The sculpture depicts a hooded, ghastly figure pulling itself onto the docks; its lanky fingers gripping a lantern in one hand and the other resting on the dock as it's pulling itself ashore. Legend has it that good fortunes and riches awaits those who befriend the black ghost of Klaipeda.
Diminish And Ascend, Australia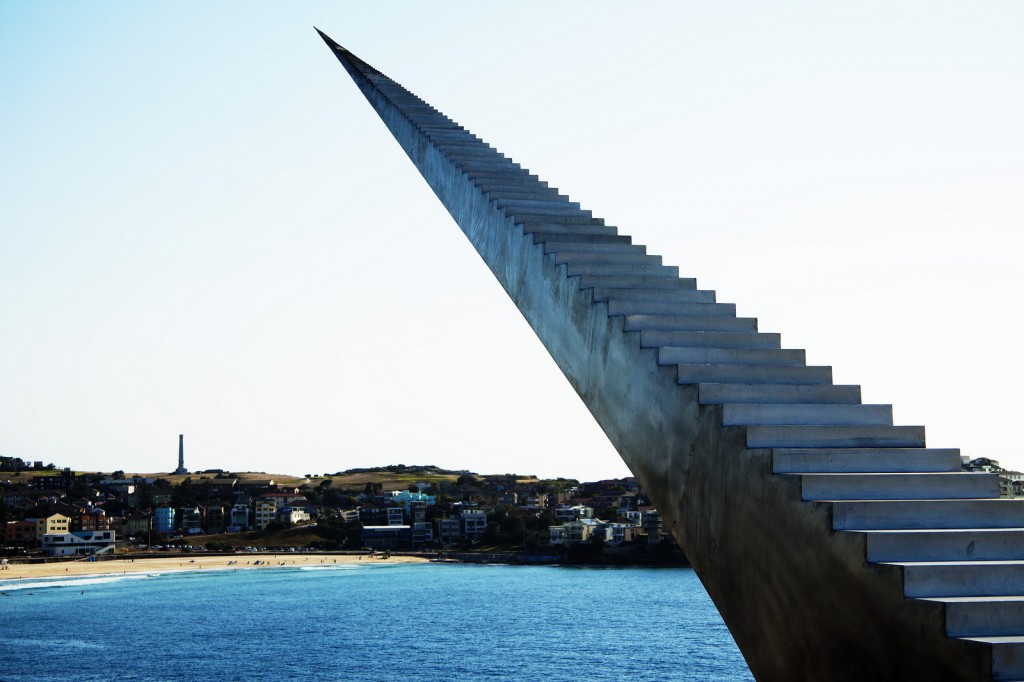 Located in Bondi Beach, this stairway to heaven inspired structure by artist David McCracken depicts an infinite staircase fading into the sky. The structure is crafted from welded aluminum and the illusion only works from a certain angle and/or in the presence of clouds.
Break Through, Philadelphia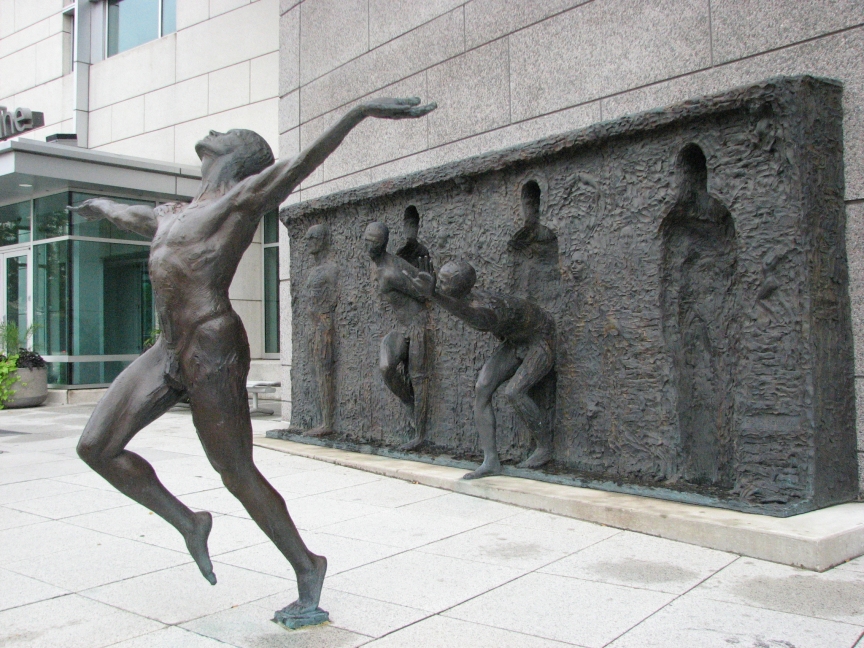 This simple but powerful art captures the universally relatable perception of an internal struggle or an adversarial circumstance, and the relief from being finally unchained from it.  Titled "Freedom," the sculpture was unveiled in 2001 and depicts a human figure emerging from a cocoon-like beginning and evolving across three iterations until it runs free, arms in the air, across the sidewalk.
The Passage, Wrocław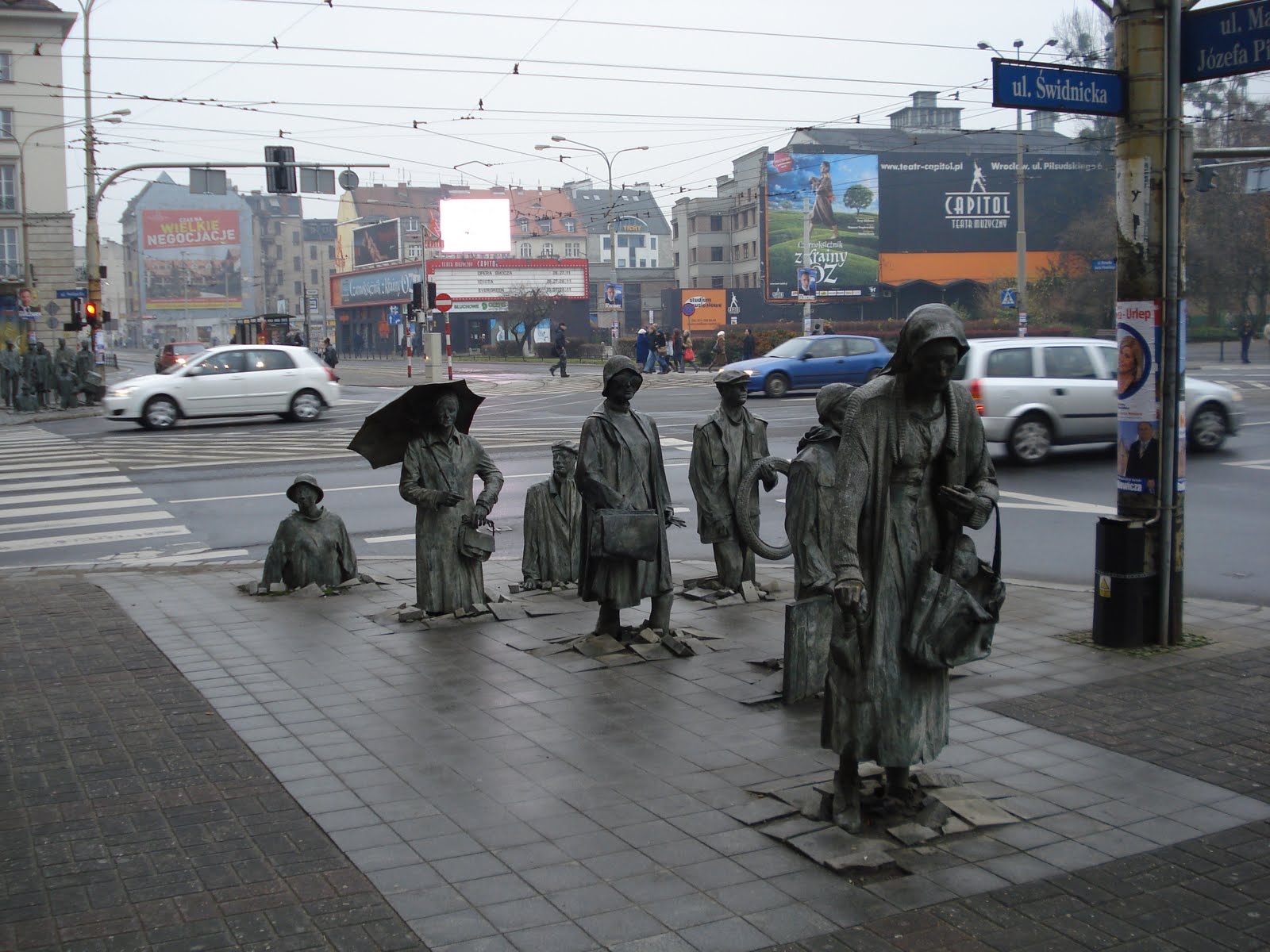 Walk along the streets of Wroclaw and you will encounter these surreal statues of people seemingly emerging out of the ground. The installation comprises of 14 figures : the main character is a woman, and the other figures are her family, some of whom have fallen to the ground and others are climbing up behind her. It's a memorial of the anticommunist activity in Poland in the early 80s when people had to retreat underground at the time of martial law.